Week Eleven : Belize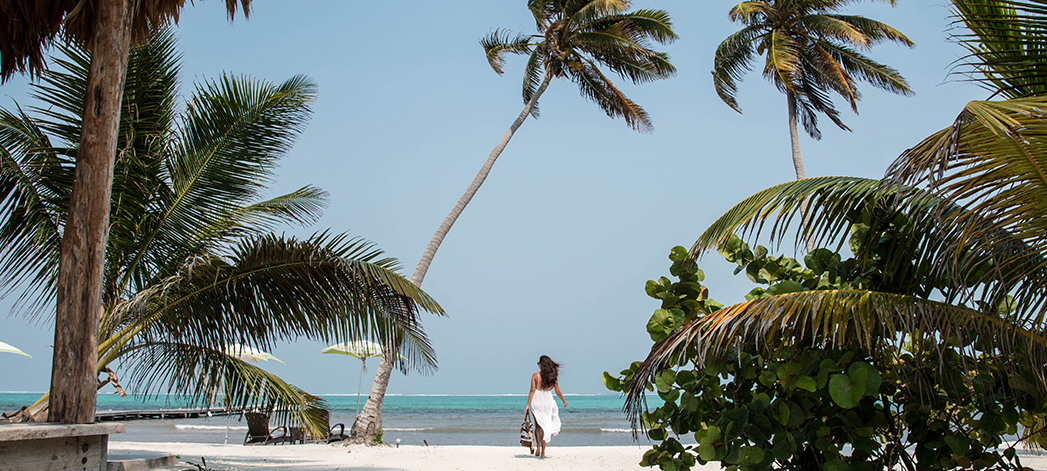 In two weeks, the Ara Collective studio is packing up and moving from Antigua, Guatemala to Austin, Texas. Which means, the countdown is on! Final meetings with artisans, collecting the last bits of inventory for Collection One, making a few more trips to textile markets, and exploring a few more corners of this beautiful land. This week, that meant jumping on a short flight to visit Guatemala's tiny Caribbean neighbor, Belize.
Belize is a part of the old Mayan world with large ruins tucked into vast jungles and stunning azure waters. It is the only English-speaking country in Central American and boasts of also being the only country considered both Central American and Caribbean. This duality is reflected in the food, handwoven textiles and conversations sprinkled with a variety of accents and languages.
We spent the majority of our time on an island o the northern coast, Ambergris Caye. This required jumping on a tiny plane from Belize City to San Pedro, a golf cart ride to the dock and then a speed boat to our hotel. The island doesn't allow cars so all transportation consists of boats, golf carts, ATV's, scooters or bicycles. It makes everyone move a little slower, a little more friendly and get a little more seaside breeze in their hair.
Belize is home to part of the second largest coral reef system in the world, the Mesoamerican Barrier Reef. (The first being the Great Barrier Reef in Australia.) The warm, crystal clear waters are teaming with busy schools of sh, lazy sea turtles and colorful coral swaying in the current. Nearby the Hol Chan Channel, where we were diving and snorkeling, there is a spot where shermen used to clean their catch just outside of the reef. This attracted Nursing Sharks and Southern Sting Rays and, although the shermen no longer use this location, the sound of boats keep drawing the sharks and rays back. Swimming with sharks is one of my all-time biggest fears so, in the name of one-in-a-lifetime-experiences, we had to boat over and buckle up our snorkels.
Now, Nursing Sharks are really like big cat sh that look like sharks. They're used to people swimming around them and apparently love having their stomaches rubbed. (We were encouraged not to try that since it's a little too much interaction in a protected Marine Reserve.) But, if you have a tiny fear of meeting a shark in their element and then pull up to water that looks like it's boiling with sharks and rays, it's a little hard to jump in. Mustering up all my courage, I leaped in with my dinky fins, sort-of working snorkel and gangly human limbs. And they really could have cared less. They looked at me, noticed I wasn't a scrap of sh and glided right on by.
I more than survived. Actually, I thrived. Freely swimming around with sharks and string rays in crystal blue Caribbean waters? That's a great moment. The moment where you get to oat around and observe a huge, active, beautiful world that we usually forget is there. The moment where you realize your fears are, like Amelia Earhart said, just paper tigers. It reminded me how fear grips us and holds us back in the boat, on the shore, on our couch. But, so often, it isn't real. The great fear is informed by ignorance and inexperience.
the most difficult thing is the decision to act, the rest is merely tenacity.
the fears are paper tigers. you can do anything you decide to do. you
can act to change and control your life; and the procedure, the process
is its own reward. | amelia earhart

What's the remedy? Jumping in, even if you're only armed with some dinky tools and awkward swim moves, and experiencing it firsthand. And thriving.