Returning to Guatemala
It might be blazing hot around the US right now but we're dreaming of the cooler months ahead as we work on our winter collection. Before leaving Guatemala, we had been working with our artisan partners to design a collection of jewel-toned home goods inspired by local, traditional designs. Last week, Ara Founder and Designer, Sarah Contrucci Smith, returned to Guatemala on a solo trip to follow up with the groups and put the finishing touches on Collection Two. Read on to hear about her travels and what it was like to meet her namesake...
this, right here, is the heart of ara collective. to collaborate with master artisans who have the talent to make exquisite, high quality and exclusive pieces but struggle to make ends meet because of their location and lack of market access.
My first trip to Guatemala was in February 2014 on a backpacking trip with my husband, Blake. This was the moment that Ara Collective came alive (read that story here (https://ara-collective.com/one-month-three-countries/)) but the real design work started six months later, when I returned to collaborate on Collection One with the artisans I had met. I've traveled internationally my whole life and like to think of myself as a brave lady. But, because of grad school and a new puppy, when Blake wasn't able to make that return trip with me I was a little freaked out. His Spanish is much better than mine, he can drive stick shift, and he's a man, which is always nice for safety reasons. But having a husband who believes in you sometimes means he gets you to do scary things, like dust o your Spanish, talk to strangers, and make your dreams happen. Of course, I absolutely loved that trip and felt 100% comfortable getting around the country by the time we moved there this spring. Traveling alone is an eye-opening experience in an entirely different way.
I've missed Guatemala immensely since leaving in May and getting to return last week felt like returning to my second home. As soon as I landed, I headed to Lake Atitlán, where the majority of the artisans we work with live and one of the most beautiful places I've ever been. It was the perfect first evening back in Guatemala, shaking off that tired, travel feeling and preparing (read: looking up phrases on GoogleTranslate) for a jam-packed four days in the country.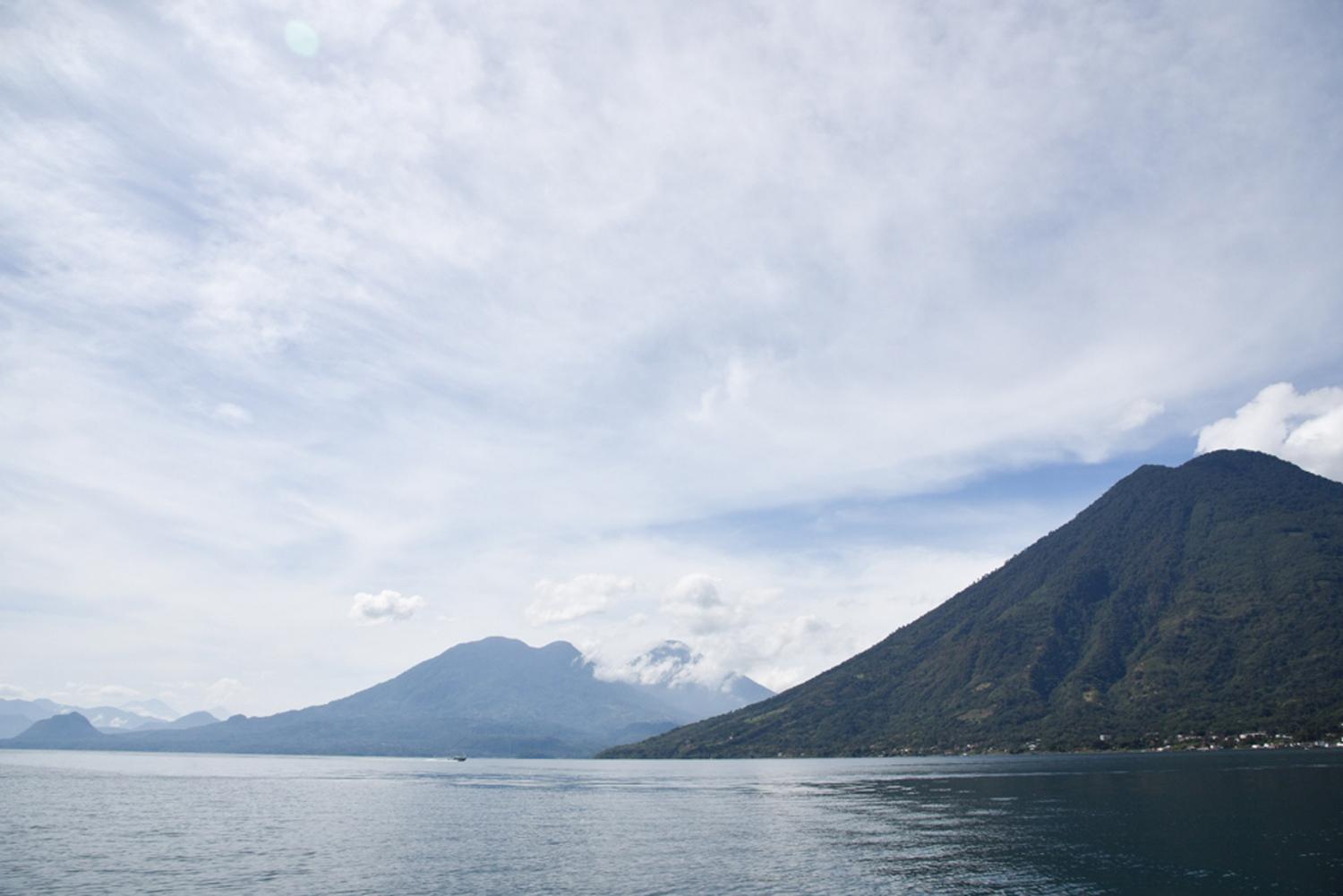 Above: If you ever visit Lake Atitlán, I highly recommend staying at La Fortuna Eco-Resort (http://lafortunaatitlan.com/). It's tucked into it's very own cove, you stay in your very own bungalow (with outdoor showers), the food is delectable, and the coffee is fresh from the coffee trees in the cove. Dreamy in every way.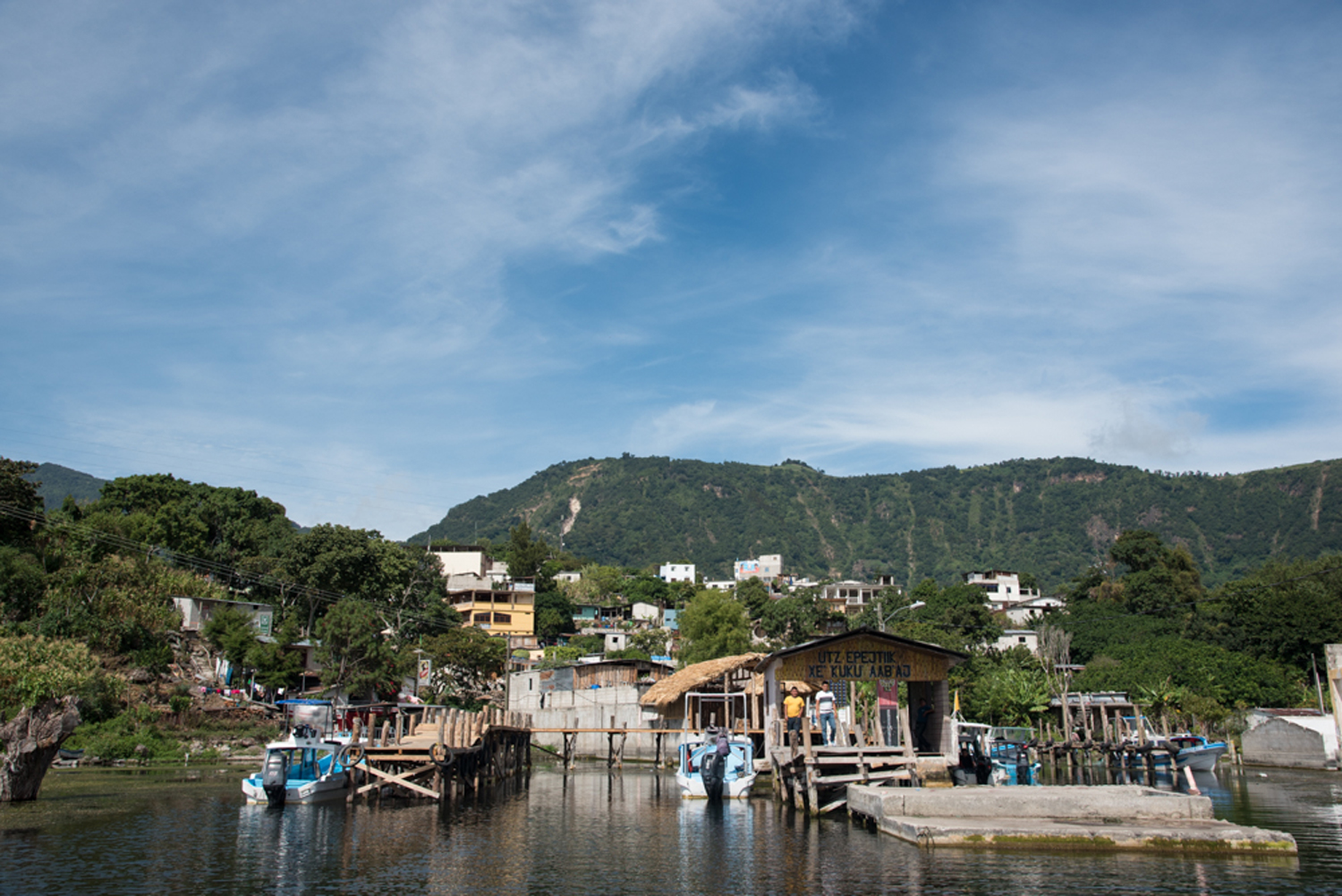 The lake is one of the few areas in Guatemala that's still natural dying their textiles, an ancient process that just blows me away, no matter how many times I see it. This means every hue in our products from here are custom made and always vary slightly from batch to batch. It makes picking up orders a thrilling experience. But the highlight of this trip was visiting a new group I started designing with in April. I met the ladies of Madres Solteras Grupo (Single Mothers Group) while shopping around with some friends that were visiting. There a lot of textile shops around the lake but the woman manning this shop, Ingrid, was like a ray of sunshine. Her smile was radiant and her joy contagious. As I asked about the cooperative she was with, I was surprised to find out it was a group of 30+ women with children who have been rejected by their fathers. All that joy, in the worst of situations.
These brave women provide for their children solely through their weaving talents. They are a dynamic group of talented designers, weavers, and business women. They are mothers, busting their buns to make sure their children live good, happy, healthy lives. They are single, working parents, so their children help with the work load by tying and rolling the tassels at the ends of their mother's blankets. Their families' livelihoods depend on the work of their hands, so their work is impeccable and their prices higher than the average shop.
This, right here, is the heart of Ara Collective. To collaborate with master artisans who have the talent to make exquisite, high quality and exclusive pieces but struggle to make ends meet because of their location and lack of market access. We design with artisans like Madres Solteras to update their color palettes and motif application to make their traditional designs more attractive to shoppers in the US. But, as a rule, Ara Collective never negotiates with artisans about their prices. I want to be sure we pay them what they feel is fair and is sustainable for a life of thriving. Not just surviving, because just surviving perpetuates poverty instead of relieving it.
Before leaving in the spring, I picked up a sample order from Madres Solteras Grupo, as a test of their design, production, and organization. It was just eight throws but when I came to pick them up Ingrid told me a baby had been born in the group that morning. She was named Sarah, in my honor. Because a purchase of EIGHT throws was so significant to these mamas. When I returned last week to pick up an order of 30, I got to meet the entire group and some of their children. And sweet, three-month old Sarah. She was a chubby ball of cooing, curious looks, and snuggles. And just like the heroic women of this group, she was smiling like sunshine.
Meeting her was one of the most significant moments of my life. What an honor. And what a reminder. To be candid, Ara Collective is tiny and it often feels like we're merely a spec in the world of big companies, discount prices, and disposable goods. But this little baby reminded me that what may seem small can be big in someone else's world. It can be life-changing.
This work, your purchase, your choice of an ethically-made, handwoven piece is significant. Even just one piece. So thank you for being a part of Ara Collective and supporting artisans like these to provide for their families and live lives that thrive. The throws by Madres Solteras Grupo will be released in Collection Two, coming this winter. In the meantime, read more about our other partners in Lake Atitlán and beyond on our Artisans page. (https://www.ara-collective.com/artisan)
See more of this trip, day-by-day, on Ara Collective's Instagram (http://instagram.com/ara_collective). If you're a grammer, be sure to follow the account so you can catch announcements, special deals and giveaways, and flash sales!